Waterloo, ON patients ask, "What is Invisalign orthodontics"
At Auburn Centre Dental, patients in and around Waterloo, ON have a variety of options available to them when it comes to general, cosmetic, and restorative dentistry. Our team of professionals can help patients who are considering orthodontics decide which treatment is most appropriate for their specific needs. At our practice, patients can straighten their smiles with solutions such as Invisalign.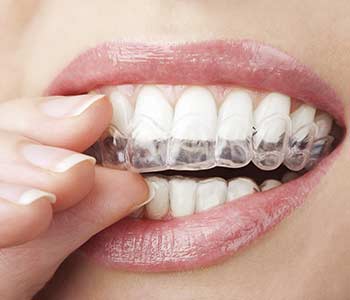 WHAT IS INVISALIGN?
Invisalign is a type of orthodontic treatment that can be used to achieve a more beautiful smile. It can be utilized for patients who have mild to moderate misalignment and can also align the bite. Patients with overbite, crossbite, or underbite can enjoy Invisalign treatments. The process is done using clear plastic aligner trays to gradually move the teeth into proper alignment. This is done by wearing the trays for at least 20 hours a day. The trays are easily removed, allowing patients to maintain their oral health and wellness, flossing and brushing as they normally would without having to worry about brackets and wires that can make it complicated.
Invisalign is the answer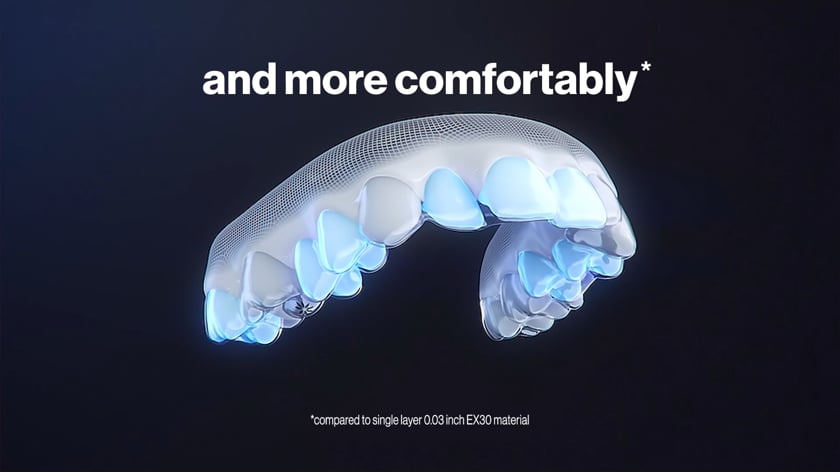 Now with Invisalign that imbues cutting edge technology and corrected smiles all over the world to prove its efficiency, it utilizes a patented design to create a great smile little no room for error and discomfort. Ask your doctor about Invisalign today!
Video Transcript
To get to smile, you've always wanted, invis is the answer. You have a bunch of choices when it comes to straightening your teeth. Braces are common and other clear aligner are everywhere.
So why is invis the answer?
Transforming smiles with more sophisticated technology and data points for more than 8,000,000 smiles for better predictability, Invisalign is the worlds most advanced clear aligner system.
A specially engineered patented material that's proven to move your teeth more precisely and more comfortably than ordinary aligners.
Your treatment plan is built based on your doctor's prescription and years of research and intelligence from millions of patients.
So, your treatment experience is personalised to you and only you.
You don't have to make drastic changes to lifestyle because Invisalign aligners are easily removable, you can still eat and drink what you want and can even play sports without worrying about broken wires or brackets.
Straighten your teeth with Invisalign is on average five months faster than braces. Also, study showed that patients treated with aligners had less plaque and better periodontal health than those wearing braces and once more no accidents from broken brackets or pokey wires in your mouth.
For more comfort and predictability than other aligners and a faster, better experience in braces, invis is the answer to transform your smile.
BENEFITS OF INVISALIGN
Many patients ask our team about the advantages of using Invisalign over traditional braces.

Invisalign uses removable trays to straighten the teeth instead of brackets glued to the teeth and connected with wires.
Invisalign provides precise treatment, as digital imaging is used to create the trays.
Invisalign treatment allows patients to get a brand-new smile without having to hide behind metal appliances to do so. Invisalign trays are removable, so patients can maintain their oral health and wellness with brushing and flossing.
Invisalign is comparable in cost with traditional braces and is more discreet.
Invisalign can be used for teenagers or adults who understand the importance of complying with their treatment. Invisalign allows patients to achieve the smile they've always wanted.
HOW DOES INVISALIGN WORK?
Patients often ask how the process is completed. First, patients book their consultation appointment. This visit allows for assessment of the patients' smiles and decide if they are appropriate candidates for Invisalign treatment. If patients choose to move forward with this service to achieve the smile they desire, they then work with the dental team to complete a series of 3D digital impressions. These impressions create images that are sent to the Invisalign laboratories. The team there will create a precision set of trays that will guide the patients through the process of enhancing their smiles. The number of trays in patients' series will vary, depending on how severe the misalignment is. Patients return to the dental office to obtain their trays. During this time, the dentist will walk patients through the process of enhancing the smile. Patients start with the first tray and snap them over their natural teeth. Each tray is worn for two weeks before patients progress to the next tray. By the end of the tray series, patients will have achieved their beautiful smile!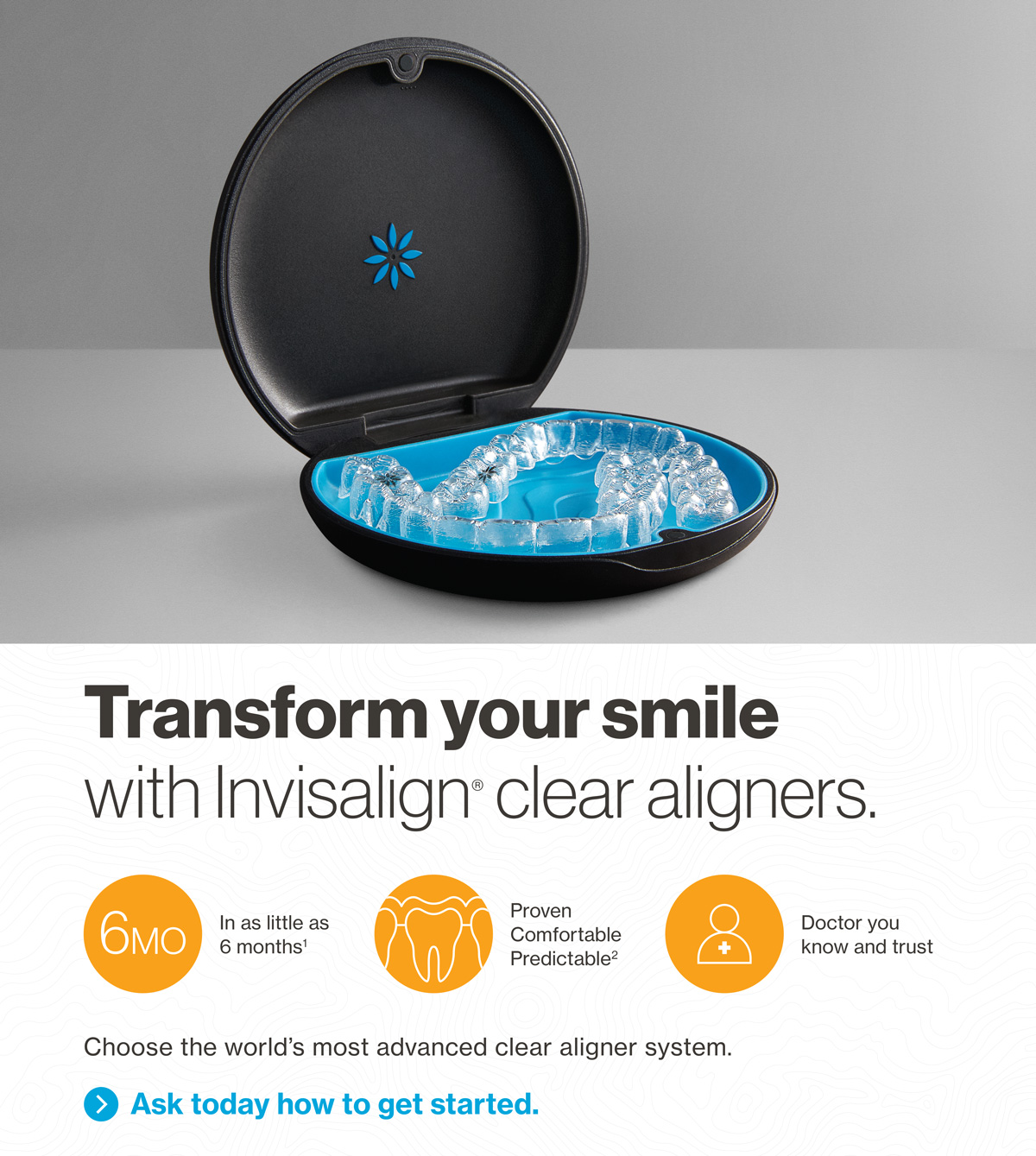 Invisalign® Before and After Results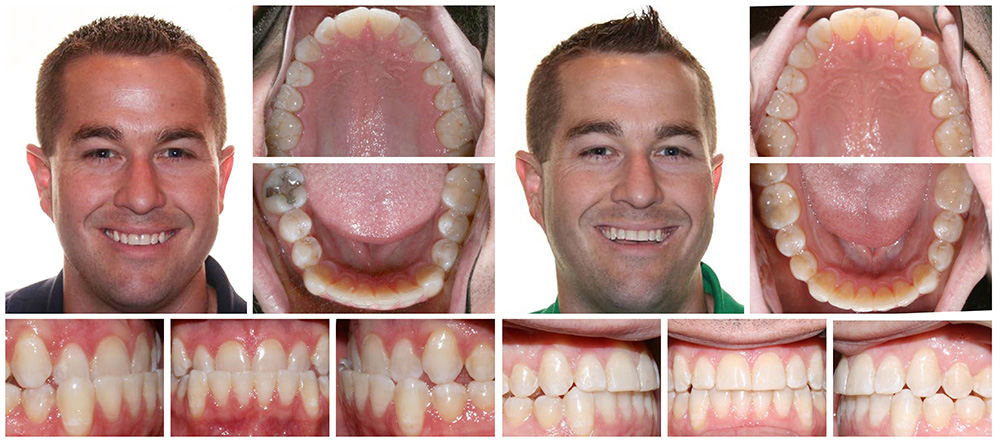 HOW OFTEN DO I NEED TO SEE THE DENTIST?
Patients love that they can get their Invisalign treatment at the dental office with the team they already know and trust with the health of their smile. Patients also love that they just visit routinely so the dentist can evaluate the progress and ensure that the treatment is working as expected. This is unlike traditional orthodontic practices for which patients will have wires tightened and adjusted each time they visit. Invisalign appointments are fast, easy, and allow the dentist to monitor the process of treatment and ensure that the results patients desire are being achieved. If patients are not complying with treatment properly, there may be delays in their treatment and additional costs, especially if the dentist needs to create a new series of trays due to poor compliance.
SCHEDULE YOUR VISIT WITH OUR TEAM TODAY!
Call Auburn Centre Dental at (519) 895-0582 to discuss the options available to you for your orthodontic needs. Invisalign is a solution that is considered an effective way of addressing poor bite and tooth alignment. Schedule an appointment and visit the staff in Suite 6 at 570 University Avenue in the community of Waterloo, ON.
Share this Article:
Back to Invisalign Page