Mouth Guards
Seven in ten Canadian adolescents are active in organized sports of some type. Despite the health and social benefits of athletics, this poses a risk of injury. In addition to helmets, pads, and other protective attire, properly fitting mouth guards are essential gear.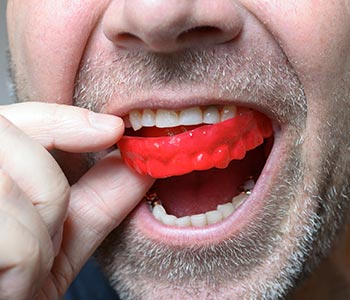 Auburn Centre Dental of Waterloo ON, offers customized appliances, which fit better and offer more protection than commercially available alternatives do.
TYPES OF MOUTH GUARDS
Premade mouth guards are marketed as ready to wear, but they offer little to no protection due to their inefficiency and inadequate material thickness.
Boil-and-bite guards are purported to form to the child's mouth for a better fit. Although they may be slightly better than other commercial mouth guards, the protection is minimal at best.
Our ProForm mouth guards are custom made for each child, allowing for a precision fit with optimal protection and comfort. The dual layer design provides the strength and durability that your little athlete needs.
If you or your child participate in any kind of contact sports, please ask us about a custom-made mouth guard.
You can reach our office at (519) 895-0582 to arrange a consultation.
BENEFITS OF PROFORM
Absorb shock and provide a physical barrier between the upper and lower teeth, or between mouth and any object of contact. Wearing a quality mouth guard can reduce the risk of broken teeth, soft tissue injury, jaw injury, and concussion.
The treatment costs for a dental injury may be up to 2000 percent higher than the price of a quality ProForm mouth guard.
Comfortable fit allows for uninhibited breathing as well as easier speech.
Show your spirit with a mouth guard matched to team colours.
Mouth guards aren't just for kids. Adult athletes, whether professional or amateur, can benefit from the protection of a quality ProForm mouth guard.