What are the benefits of preventive dental care for Waterloo, ON, area patients?
At Auburn Centre Dental in Waterloo, ON, we are pleased to offer a wide selection of restorative and cosmetic dental treatments to correct damage, reduce oral disease, and improve aesthetic concerns. However, we also have strong beliefs that the best cure for many dental concerns is prevention. Therefore, our facility has always had a serious focus on preventive care and hygiene with our dentists.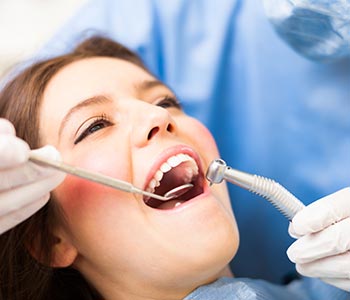 Why are hygiene visits important?
It is highly recommended that most patients visit the dentist at least twice a year. However, some patients with significant oral health concerns may need to be seen by a professional more often, especially if they have serious conditions such as periodontal disease. Hygiene visits scheduled every six months include:
Comprehensive examinations – when it comes to the conservation of a healthy smile and the treatment for conditions such as periodontal disease and tooth decay, early detection and intervention is vital. During our oral examination process, we also screen for oral cancer, which can also be addressed early on for more successful results.
Patient education – many patients are unsure if they are brushing or flossing correctly. During these routine visits, patients can ask their dental team questions to get the answers they need. Patients can also take this time to ask questions about prescription medications they may be taking that might be impacting their oral health. We will guide and advise our patients on how to achieve and maintain their oral health while answering the questions they bring to the treatment chair!
Dental cleaning – patients who visit twice annually will also enjoy a thorough cleaning of the teeth and gums to remove any plaque, tartar, and calculus that might be left behind even with thorough daily brushing and flossing.
Ready to enjoy customized care?
If you reside in the area of Waterloo, ON, and want to enjoy quality, comprehensive dental care with a caring, experienced staff, we welcome you to Auburn Centre Dental! Our team is dedicated to ensuring patients have their oral health needs met and enjoy beautiful smiles every day! Patients can call the office at (519) 895-0582 to request a consultation visit with our dentist and speak to a provider about their oral health needs. Patients can visit our office at 570 University Avenue East, in Suite 6 at the Auburn Centre.
Maintaining A Healthy Mouth
This brief video is packed with information about maintaining a healthy mouth. For more information call Auburn Centre Dental Auburn Centre.
(519) 895-0582
Video Transcript
The maintenance of clean teeth and gums revolves around brushing and flossing. Place the toothbrush bristles next to the gum line on the outer surfaces of the teeth. Brush gently, using a back and forth technique with the toothbrush. For the inner surface of the teeth, place the bristles next to the gum line and brush in a circular motion. The inside of the mouth is where the most plaque accumulates. Brush the surface of the teeth where the chewing of food takes place in the same circular motion. To clean those places between the teeth where a toothbrush can't reach, floss once a day to remove food and plaque before it can cause gum disease. So eat a well-balanced diet, brush twice daily, and schedule regular checkups with the dentist.