Dentist in Waterloo, ON stresses the link between missing teeth and resulting health complications
A missing tooth, when it is not replaced, can create problems that reach beyond simple aesthetics. A missing tooth can create serious health complications. It's incredibly important that, when you lose a permanent tooth, you get to a dentist promptly so that a plan can be devised to replace the missing tooth. This will ensure that you are able to maintain your oral health for the long-term. If you have a missing tooth that needs to be replaced, please come in and see Dr. Reza N. Roodsar at Auburn Centre Dental in Waterloo, ON. The team at Auburn Centre Dental offers effective solutions for replacing missing teeth.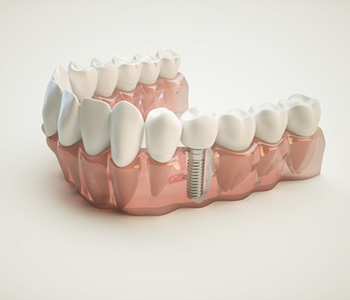 WHY DO I NEED TO REPLACE MY MISSING TOOTH/TEETH?
Failing to replace a missing tooth in your mouth can cause considerable long-term health concerns. When replacing teeth is so simple through modern dental practices such as a dental bridge or implant, there really isn't a good reason to not get the missing tooth replaced. Let's talk about some problems that you can encounter if you do decide to not replace the tooth.
Jawbone Loss: You may not realize, but your jawbone mass is preserved through the acts of biting and chewing. It's much like your body's muscle tone, which is maintained by exercise. When you lose a tooth, the stimulation that your jawbone needs is no longer happening and, over time, the bone will begin to deteriorate.
Tooth Misalignment: The teeth that surrounded the now-missing tooth depended on that tooth to maintain proper spacing. With that tooth now gone, these neighbouring teeth will begin to shift into the vacated gap which has been created. Over time the shifting of teeth will spread throughout your mouth. This can cause a destabilization of the roots belonging to the shifting teeth.
Change in Facial Structure: Did you know that your facial structure relies heavily on the structure of your teeth? With missing teeth, your facial muscles can begin to droop and cause a change in your overall facial structure. This can lead to self-confidence issues in many people.
There are several other problems that can result from not replacing missing teeth so it's in your best interest to treat any missing teeth as a significant and important issue. If you are looking for a dentist that is trusted in their community and can present you with several viable options for correcting this issue, you should consider a practice such as Auburn Centre Dental in Waterloo, ON. To schedule an appointment with Dr. Reza N. Roodsar, please call (519) 895-0582 today!
Share this Article:
Back to Dental Implants Page