Families in Waterloo, ON are discovering the advantages of general family dentistry
It can be incredibly inconvenient and burdensome going from dentist to dentist depending on the service or procedure you are needing or to make sure that everybody in your family is receiving the care they require. If this describes a situation you are all too familiar with, it may be time for you to consider a dentist who offers general dentistry that the entire family can benefit from. Dr. Reza N. Roodsar at Auburn Centre Dental in Waterloo, ON takes great pride in the diverse and extensive skills they offer in providing a full range of dental services for patients of all ages.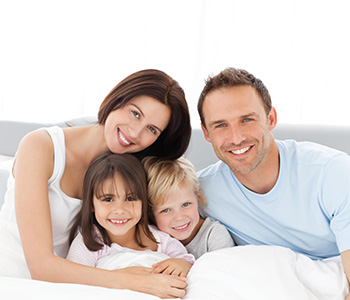 SIMPLIFY YOUR LIFE
Finding a general dental practice that can treat the entire family will not only simplify your dental care but also your life. From the very oldest to the youngest, a general family dentist is there to provide the services you need. This ensures that you are not having to go from specialist to specialist depending on your needs. You'll be able to schedule your family's cleanings and exams together in order to avoid the necessity of making several separate visits. It is also great for children! Your children can receive dental care from the same dentist and dental assistants from their very first appointments up through adulthood, allowing for a trust-based relationship to really form.
COMPREHENSIVE CARE
Many general family dental practices offer a wide range of dental services in order to serve the entire family. Dentists understand that the older members of the family may have different needs than the younger members. Grandma can come in for new dentures while little Johnny, at the same time, is able to come in to be fit for an athletic mouthguard for the upcoming football season. Services that a general dental practice may offer includes:
As you can see, it really is a one-stop-shop where the entire family can have their dental needs met. If you are interested in finding a dentist that can service the entire family, you should consider a general dental practice such as Auburn Centre Dental in Waterloo, ON. To schedule an appointment, please call (519) 895-0582 today!
Share this Article:
Back to General and Family Dentistry Page