Waterloo dentist offers family dental services for all ages
Patients in Waterloo ready to visit a dentist who can provide dental services for all ages are welcome to visit a family practice such as Auburn Centre Dental. Dr. Reza N. Roodsar and his team provide a variety of services for children and adults, ensuring everyone has access to quality dental care.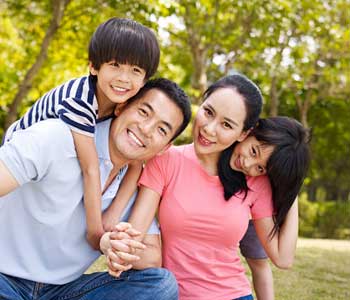 WHAT IS A FAMILY DENTIST?
A family dentist is a professional such as Dr. Reza N. Roodsar who offers services to patients young and old. This includes general, cosmetic, and restorative dentistry procedures such as those listed below:
General dentistry – general dentistry encompasses the standard treatments available from a dentist, including cleanings, examinations, and fillings.
Dental implants – dental implants are a great way for patients to replace missing teeth. These titanium restorations are biocompatible with the body and are inserted during oral surgery. They are restored in a variety of ways, making them a versatile choice for tooth loss patients.
Invisalign – an alternative to metal bracket and wire braces. Thanks to Invisalign, patients can enjoy a revolutionary method of aligning their smiles. Invisalign uses clear trays to gently reposition the teeth with proper patient compliance.
Cosmetic dentistry – cosmetic dentistry focuses on procedures used to enhance the appearance of the teeth and gums. They may include services such as dental crowns, porcelain veneers, and composite resin bonding.
Preventative care and hygiene – achieving and maintaining dental health starts with a proper foundation of care. Preventative care includes recall appointments with the dentist every six months to evaluate the smile, and an education in proper hygiene techniques.
Mouth guards – mouth guards are used in situations including bruxism, TMJ/TMD, and for high impact sports activities.
Teeth whitening – brightening the smile is easier than ever with professional-grade products and services available at Auburn Centre Dental. Patients can ask their dentist about these procedures and learn which ones are appropriate for their specific needs to achieve a brilliantly smile!
Crowns – crowns are commonly used in dental procedures to act as an extra layer of protection for a natural tooth. They may be used over fillings, teeth that have had endodontic therapy, or as a part of building a dental bridge for replacing missing teeth.
Bridges – bridges are dental restorations made of high quality porcelain that are placed over the adjacent teeth where tooth loss has occurred. They include a false tooth and crowns on each side to anchor them in place within the dental arch.
Dentures – another solution for tooth loss is dentures. Dentures include full and partial dentures, both readily available in our practice. They are a more economical alternative to treatments such as dental implants and dental bridges.
WHAT TREATMENTS ARE RIGHT FOR ME AND MY FAMILY?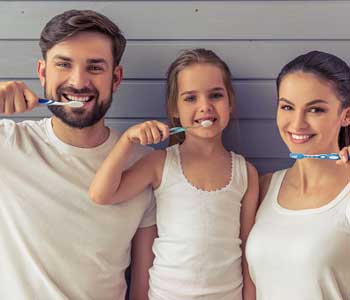 Every patient is unique and requires specific treatments based on their dental needs and goals. It is important to work with a dental staff who provides a wide selection of treatments for patients of all ages. This ensures that everyone in the family gets the care they need. Grandma might need a new pair of dentures, Dad might need a dental crown to protect a broken tooth, a teenager might need Invisalign to straighten the smile, and little sister and brother may need regular check-ups, cleanings, and examinations to ensure they have the proper foundation for good oral health and wellness. By focusing on the patient as an individual, we can develop treatment plans that work for each person in the family, based on their own personal situation.
SCHEDULE AN APPOINTMENT WITH US TODAY!
Ready for a family dentist who can take care of all your dental health care needs? Ready to undergo services that will transform the health, function, and appearance of your smile? Ready to work with a team of professionals located in the Waterloo ON area? If this sounds like you and your family, connect with the staff at Auburn Centre Dental today! Dr. Reza N. Roodsar and his staff are here to assist patients and families in his state-of-the-art facility. Call (519) 895-0582 today to learn about general, cosmetic, and restorative dentistry solutions available.
Share this Article:
Back to Home Page