Protect your family's oral health – family dentist in Waterloo, ON
Dr. Reza N. Roodsar and the team at Auburn Centre Dental in Waterloo, ON offer a gentle approach to a healthy smile through a wide range of family dental services. Dr. Roodsar provides a compassionate and committed approach to dentistry that will ensure the oral health of your entire family.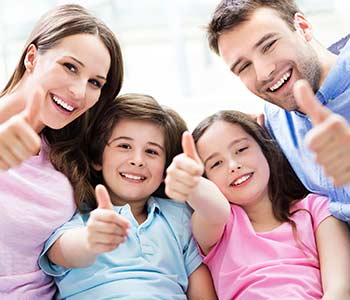 FAMILY DENTISTRY
If you are looking for a comfortable and inviting atmosphere that provides cutting edge technology in pursuit of general oral health for yourself and your family, Auburn Centre Dental is the choice for you. Dr. Reza N. Roodsar is a family dentist in Waterloo, ON who provides the care, information and advice necessary for you to make informed decisions regarding your family's oral health. We want to be with you and your family as you progress through life. From the earliest years of childhood through your maturing years, Dr. Roodsar wants to be there for you in both routine oral maintenance as well as to treat any dental issues you encounter throughout your years.
Sometimes securing a dental appointment that fit your schedule can be a hassle. Dr. Roodsar understands this and offers appointments as late as 7pm and can book multiple family members on the same day. Dr. Roodsar doesn't just think of you as a patient, but as family. From the moment you walk through the door you will be greeted and treated like family by a team whose only goal is your oral health and comfort.
PREVENTATIVE CARE
Dr. Roodsar's top concern is restoring and maintaining your oral health. Once you have a healthy smile, the work is not done. It's very important that you follow a path that allows you to maintain your gorgeous smile. This is accomplished through regular visits. Dr. Roodsar employs skilled hygienists who provide individualized treatment in the following areas:

Cleaning – It's important to regularly remove plaque and tartar from hard to reach areas. This includes areas below the gum line as well as in pits/fissures of your teeth
Polishing – If you have any stains or rough tooth surface that you'd like removed, please let the team know and they will work with you on regaining your whitest smile
Education – If you are unsure or need a better understanding in how to maintain your oral health, they will work with (not lecture) you in developing healthy everyday habits and can discuss any concerns you may have
Exam – Even if you believe that you have healthy teeth and gums, you should still come in and allow the team to give you an oral exam using top of the line equipment and technology to detect any problems at the very earliest stages
RESTORATIVE & COSMETIC TREATMENTS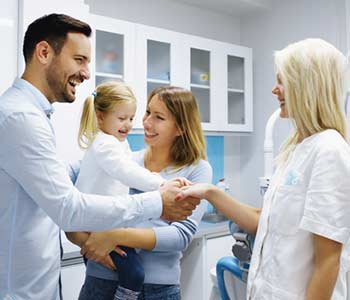 Whether you are feeling like you want to revitalize your smile or if you are having a dental issue that requires immediate attention, Dr. Roodsar offers a wide range of services that will have you showing off your sparkling white smile again in no time!

Teeth Whitening – As you age, your enamel can acquire stains which, over time, will cause your once bright white smile to become dark & yellowed. Dental whitening works with a peroxide-based gel that breaks up stains and restores that youthful white color to your enamel.
Veneers – One of the most popular dental treatments available, veneers can cover stains, lighten dark teeth, close gaps, correct the appearance of crooked teeth and much more
Dental Crowns – Sometimes called a "cap", a crown will be custom fitted for the affected tooth and will restore the size and shape of your damaged tooth or correct a cosmetic flaw
Dental Bridge – This is a fixed restoration that can replace single or multiple teeth. The process is streamlined and convenient to restore chewing efficiency, eliminate gaps in your smile and prevent teeth from shifting towards open space
Dental Implants – If you've lost one or several teeth, not only the appearance, but the shape and function of your mouth can be affected as well. This can cause a change in your facial symmetry, cause chewing issues and lead to degeneration of other teeth. If you are going through this, a dental implant may be right for you. You may need a single implant (if missing just a single tooth) topped with a custom cosmetic crown or several implants which can support a full denture plate
Invisalign – Dr. Roodsar has been recognized as an Invisalign preferred provider. If you need properly aligned teeth, please call and schedule an appointment for a consultation
PERIODONTAL CARE
Your teeth are not the only important component of healthy oral care. Your gums are just as important and can develop periodontal disease if not properly cared for. Also called gum disease, it is an infection of the tissue surrounding your teeth. It can lead to inflammation, a separation of the tissue from the tooth which can leave you with pockets that catch extra plaque and bacteria, and lead to infection.
Loose teeth
Bleeding gums
Consistent bad breath
Tender or discolored gums
Dr. Roodsar will work with you in developing a personalized treatment plan that works for you.
DENTURES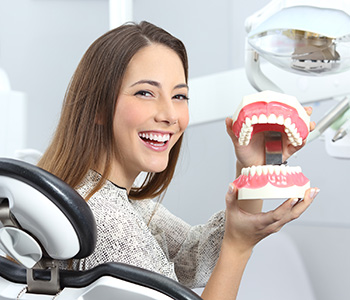 If you have lost your natural teeth and need dentures, Auburn Centre Dental wants to help you through the process of getting customized dentures that will restore your confidence and have you smiling again. Several denture options are available and include:

Partial Denture – Designed to replace several teeth and to fit around your remaining natural teeth
Full Denture – Quick and affordable, this option is made available to patients who have experienced complete tooth loss in one or both arches. A full set of prosthetic teeth is set in a gum colored base and is customized to the contours of your mouth
Implanted denture – This option provides maximum stability and can be used to support a full denture or a variety of customized restorations
MOUTHGUARDS
70 percent of our children are active in an organized sport of some type. While these sports offer great health and social benefits, they also pose a danger and risk of injury. A properly fitted mouthguard should be considered just as essential as any other protective gear. A quality mouthguard will reduce the risk of broken teeth, soft tissue injury, jaw injury and even concussions!
Auburn Centre Dental offers customized mouthguards, which fit better than generic commercially available options. They offer ProForm mouthguards, which are custom made and fitted to each individual child allowing precision fit with optimal protection and comfort. A ProForm mouthguard was engineered with a dual layer design, providing the strength and durability that all youth athletes need.
If you are looking for a family dental experience that will leave you with peace of mind, please give Auburn Centre Dental a call to setup an appointment. You will receive top of the line care with personalized treatment that will leave your entire family smiling.

Share this Article:
Back to General and Family Dentistry Page