Dental mouth guard center in Waterloo, ON offers professional grade oral appliances
At Auburn Centre Dental in Waterloo, ON, our team of professionals provide quality care in our dedicated oral health care center. We offer general, cosmetic, and restorative dentistry, as well as preventative care with the use of dental mouth guards.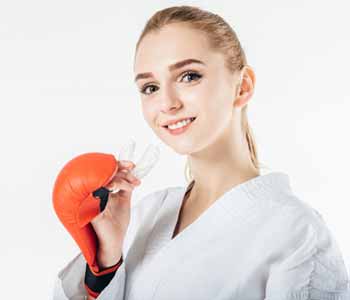 WHAT IS A MOUTH GUARD?
A mouth guard is a special oral appliance that is worn to protect the smile. At Auburn Centre Dental, we offer professional-grade products that are made of high quality acrylics and are custom-made to fit precisely as they should for the best functionality. Would you step out onto the field without your helmet? Would you forget knee pads? Of course not! So why would you forget a sports mouth guard?
WHEN SHOULD I WEAR A MOUTH GUARD?
Mouth guards are worn during high impact sports, typically sports such as:

Soccer
Football
Boxing
Hockey
Skateboarding
Basketball
They are used to help protect teeth from being broken or knocked out. This is essential in keeping your natural teeth for as long as possible and avoiding extra costs associated with maintaining the smile or repairing teeth that have been damaged. Mouth guards are a small investment that can make an enormous difference in the lifetime of a smile!
WHO IS A CANDIDATE FOR A MOUTH GUARD?
Anyone who will be participating in activities that could put their smile at risk will want to consider the advantages of having a specialized mouth guard fabricated for their mouth.
WHAT ABOUT OVER-THE-COUNTER OPTIONS?
There are several over-the-counter mouth guard options for patients to consider. The store-bought mouth guard, however, is a generic option that does not fit properly and can still leave patients at risk in the event of a strong impact to the mouth. The other option is the boil and bite mouth guard. These are special acrylic oral appliances that are boiled in water to soften before patients bite down on them to shape them. While these are more effective than the generic guards, they still will not provide the best fit when compared to the mouth guards available at Auburn Centre Dental.
HOW DO YOU WEAR A MOUTH GUARD?
A mouth guard is made to fit perfectly around the teeth when the patient wears them. This ensures that the teeth are protected from all angles in the event of impact. The mouth guard will then buffer any impact and reduce the risk of breakage of the natural tooth or a tooth getting knocked out. Mouth guards need to be worn at all times during sports to be effective in protecting the smile. Many of the over-the-counter options are uncomfortable for patients, causing them to not comply with wearing them regularly because they scratch the gums or feel too "full" in their mouths. This lack of compliance can put the smile at risk. Instead, we encourage patients to think about visiting Auburn Centre Dental for custom sports mouth guards for an amazing fit!
WHEN SHOULD I REPLACE MY MOUTH GUARD?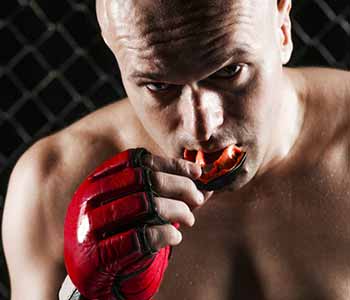 Oral appliances such as mouth guards should be replaced at any point in time when they do not fit correctly or if they are becoming weak or brittle. Cracks or tears may indicate a need for a new oral appliance. Patients who have braces that may cause their smile to change over time will also want to have mouth guards made more often as their smile alignment changes to ensure proper fit and function. Our dental team will encourage patients to bring their mouth guards to their routine dental appointments for an assessment to determine if they need to be updated.
DO YOU NEED A MOUTH GUARD FOR AN HIGH IMPACT SPORT? DON'T STEP OUT ON THE FIELD WITHOUT PROTECTION!
Learn more about the advantages of using professional-grade mouth guards for protection of your smile. Contact the team of Auburn Centre Dental today and ask about sports solutions. The practice is conveniently located in Suite 6 at the Auburn Center at 570 University Avenue East in Waterloo, ON. Call the front office to schedule your visit at (519) 895-0582 and get started taking charge of protecting your smile from damage!

Share this Article:
Back to Mouth Guards Page