Treating tooth loss with a denture: tips and recommendations from dentist in Waterloo, ON
Regardless of how teeth are lost, it is vital that Waterloo, ON area patients speak with their dental provider to discuss restoration options. While there are several solutions for treating tooth loss, a denture is a popular choice. The dentists of Auburn Centre Dental encourage patients to visit their practice to discuss dentures and to receive tips and tricks for extending their lifespan.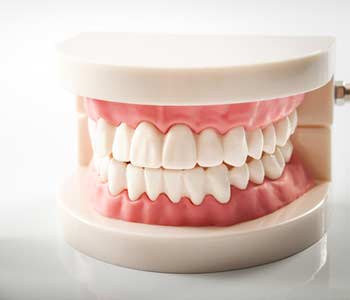 WHAT IS A DENTURE?
A denture is a prosthetic that is custom-made for a patient to replace one or more teeth. There are two types of dentures. The first is a full denture. This denture is made of acrylic and restores the entire dental arch. The appliance includes false gum tissues and false teeth. Patients wear their dentures to speak and eat properly. Another type is the partial denture. A partial denture works by replacing one or more teeth within the arch. It is made with an acrylic and metal framework. The partial denture snaps into place, using existing teeth for support, and allows patients to restore the function and beauty of their smiles. Both partial dentures and full dentures are available from the team at Auburn Centre Dental in Waterloo, ON.
WHICH ONE IS RIGHT FOR ME?
Choosing a denture needs to be done with the right team. The dentists of Auburn Centre Dental align their recommendations with the preferences of the patient. A denture is a standard and economical option for patients who want a removable restoration. Patients not suitable for other options, such as dental bridges and dental implants, may find a partial or full denture to be best for their needs. During an evaluation with our dentists, patients can speak about their preferences and determine if dentures are suitable.
WHAT ARE SOME TIPS AND RECOMMENDATIONS FOR CARING FOR DENTURES?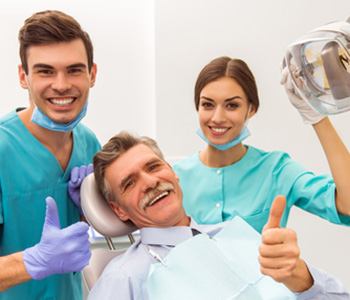 Here at Auburn Centre Dental, we encourage patients to ask our dental team about care for partial and full dentures. Below are a few recommendations that may be followed to reduce the risk of breaking dentures and helping keep them functioning longer:
Clean dentures after eating. Patients should remove their dentures and hold them under running water to remove any food debris and loose particles from the appliance.
Place a towel underneath the denture. Whether rinsing the denture in the basin or brushing a denture clean, patients should lay a towel down on the counter or fill the basin with water to protect the denture if it slips out of the hands.
Care for the existing teeth. The remaining natural teeth in the smile need to be correctly cared for to reduce the risk of losing more teeth to conditions such as cavities or periodontal disease.
Brush dentures twice a day. Brushing the denture is one way to keep it clean.
Soak dentures to keep them moist. Dentures that dry out may lose their shape and may be susceptible to damage. Keep dentures in water or denture-soaking solution overnight.
Schedule regular dental visits. Patients should visit their dentist every six months for evaluation and cleaning. Patients need to bring their denture with them during their visit to check fit and function.
See a dentist if changes to the fit occur. If a denture is no longer fitting properly, patients need to voice their concerns with our professionals to have them adjusted or replaced. A denture that doesn't fit properly can affect one's ability to eat and speak and can cause sores and discomfort that can become a bigger problem.
WHAT OTHER OPTIONS ARE AVAILABLE?
If patients do not want a removable restoration for tooth loss, they can ask about other solutions used at Auburn Centre Dental. These include dental bridges, dental implants, or even implant-supported dentures. Not everyone is an appropriate candidate for these alternatives, so a consultation visit is the first step in deciding if a denture is best.
REQUEST AN APPOINTMENT AT BAYLEY DENTAL TODAY!
If you are faced with tooth loss and are interested in learning more about treating tooth loss with dentures, we welcome you to book an appointment at our practice in Waterloo, ON. Auburn Centre Dental is in the Auburn Center at 570 University Avenue East, Suite #6, and can be called at (519) 895-0582 New patients and families are welcome at our facility.
Share this Article:
Back to Dentures Page